Bangladesh team wins big at ITEX 2023 in Kuala Lumpur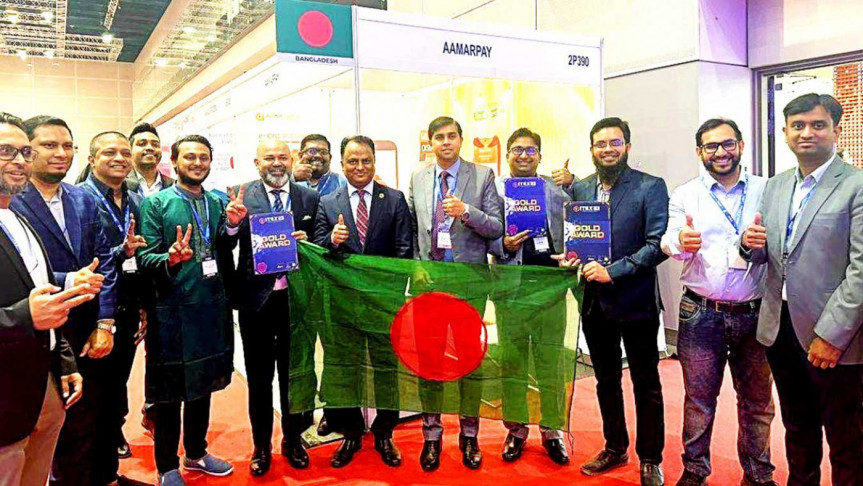 The Bangladesh team won three gold and two silver awards in various categories of the International Invention, Innovation and Technology Exhibition (ITEX) 2023 held in Kuala Lumpur, the capital of Malaysia. 
Aspire to Innovate-a2i was the technical consultant for the Bangladesh team, reads a press release.
On Friday, the final day of this two-day competition, Bangla Traders in the agriculture category, Zynax Health in the Medical-Health category, AmarPay in the ICT, Tele-Communication and Audio Visual category bagged the Gold award. 
Moreover, EGuardian won the Environment-Energy category and Bangla Track in the ICT, Telecommunication and Audio Visual category won the silver award.
On Thursday (the opening day), Mohammad Golam Sarwar, high commissioner of Bangladesh posted in Malaysia said that the Bangladesh team will return home with a lot of good achievements from this year's edition of ITEX, an internationally renowned science and technology competition'. 
He termed each project of Bangladesh that participated in the competition as a timely and important initiative to combat climate change and said: "Our government's journey for Smart Bangladesh in 2041 has already been started and new technological innovations have a role to play. The participation of Bangladesh's private technology institutions in science and technology-related exhibitions and competitions that are very famous and recognized at the international level like ITEX is truly commendable."
"Along with this, Aspire to Innovate-a2i's involvement as a technical consultant in this year's ITEX is an example of the smart and visionary attitude of the present government in building a science-minded future Bangladesh," he added.
Notably, a2i participated in ITEX 2018 and 2019 with its own innovations and received special international honours for one project, including three Gold and six Bronze awards. 
Later, a2i played a key role in making ITEX known and popular among innovative technology-based entrepreneurs in the private sector in Bangladesh. In that continuation, a2i is in the role of technical consultant for the Bangladesh team participating in ITEX 2023 this year.
Aspire to Innovate-a2i, implemented under the Cabinet Division and Information and Communication Technology Division and supported by UNDP, is carrying out various innovative activities to implement Digital Bangladesh and Smart Bangladesh of the Government of Bangladesh.
On behalf of Bangladesh High Commission, Counselor (Political) and Head of Embassy Farhana Ahmed Chowdhury; Counselor (Consular) GM Russell Rana and First Secretary (Commerce) Pranab Kumar Ghosh and Head of Commercial Strategy Department of a2i Rezwanul Haque Jami; a2i's Device Innovation Expert Taufiqur Rahman; Sohail Rana, head of technology department of ekShop, and other local senior government officials were present at that time.