'Red Live Jash Asian Awards' giving ceremony held in Malaysia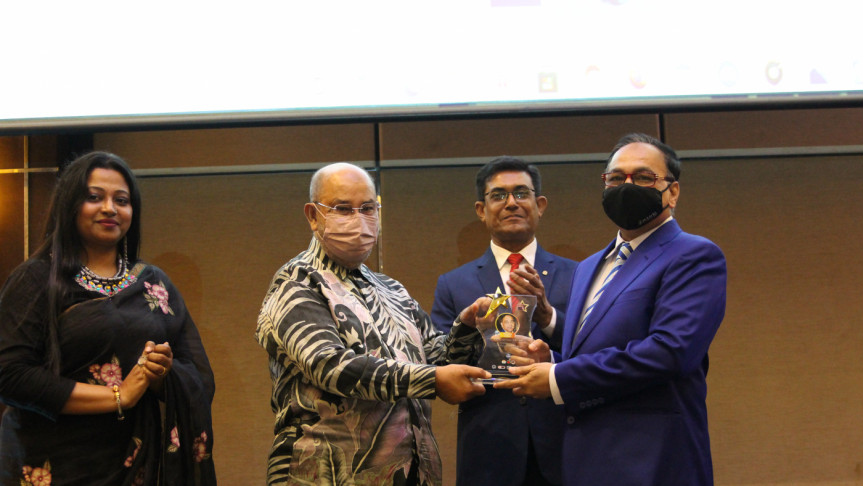 For the first time, "Red Live Jash Asian Awards-2021" giving ceremony was held in Malaysia's Kuala Lumpur recently.
Tahmina Bari Rini, Editor of the Red Live gave the welcoming speech at the beginning of the programme which was hosted by film directors Zafar Firoz, Nusrat Shamrin, and Ni-An Shah.
Former Foreign Minister of Malaysia, Yang Berbahagia Tan Sri Dato' Seri Dr. Syed Hamid Albar was present as the chief guest and handed over the prizes among winners while Dr Abul Bashar, Professor of the Masha University, Lion Harun Ur Rashid, Mahbub Alam Shah, Director of Malaysia Bangladesh Chamber of Commerce, Anwar Abrar, CEO of Malaysia Standard Chartered Bank, Prof. Dr. Roshni Hassan, Deputy Dean of Institute of IIIBF Islamic University, Asrab Sharafuddin, Assistant Professor of the Institute of Islamic Banking and Finance, Islamic University were present as special guests.
The awards were given in four categories: Fashion Designer, Modeling, Photography and Entrepreneur in a competition comprising of three countries Bangladesh, Malaysia, and India.
Among them, Shamim Al Mamun Sarwar became the first in the entrepreneur category in Malaysia, Shakira Hayat Khan became the runner-up. In addition, Mohammad Ariful Islam, an entrepreneur from Search War, received an inspirational award in the Entrepreneur category.
After three months of virtual competition, those who have climbed the ladder of recognition and success for their hard work or talent were awarded the Red Live Jash Asia Award of the year, read a media release.