Bangladesh is the champion in an international cultural competition in Malaysia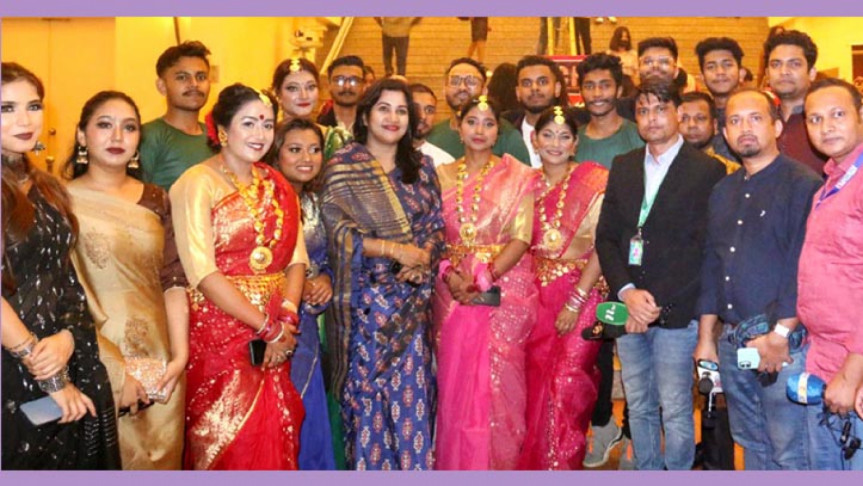 SEGi University, a renowned Malaysian university, hosted a cultural program in which universities from 20 countries participated. A team of Bangladeshi students won the first prize in the costume category. Bangladeshi students who are studying there are feeling very proud of this feat.
This Friday, the program took place at the SEGi University Campus in Kota Damansara, Kuala Lumpur. In the program, a group of Bangladeshi students displayed the culture and tradition of Bangladesh and won the competition.
The fancy performance of Bangladeshi students surprised everyone. Viewers were pleased and fascinated by the performance and began cheering, "Bangladesh! Bangladesh!"
Students from various countries, including India, Bangladesh, Malaysia, Sri Lanka, Sudan, Pakistan, Egypt, participated in the program. Students hoisted their national flags, and wore cultural and traditional dresses. Fashion shows and dance were also part of the cultural event.  
Bangladeshi students portrayed the image of rural Bangla through their dance. In their short performance, they depicted the natural beauty of Bangladesh and the change in the life of the country's people. Along with studying in Malaysia, Bangladeshi students have always maintained their success in international cultural festivals. As a result, international students have grown a sense of respect for Bangladeshi students. The Bangladeshi students of SEGi express that they will continue to maintain their reputation.
Tabassum Mustafa Authoi, the Bangladeshi student ambassador of Segi University, told NTV Online that Bangladeshi students were the best at the international festival. She said, "I am very happy that Bangladesh has won first place, beating many other countries. It feels really good to represent Bangladesh and portray the heritage and culture of our country abroad. All the hard work seems worthwhile. As Bangladesh is progressing day by day, Bangladeshi students living outside the country are also living up to the reputation of Bangladesh intact in the world.
President of SEGi International Student Society Amber Ahmed told NTV Online that this achievement would inspire Bangladeshi students. He said, 'Today, foreign students are looking at Bangladesh as a model. Such achievements of Bangladesh are increasing the recognition of Bangladesh in the world.
The First Secretary and Counselor (Political) Farhana Ahmed Chowdhury of Kuala Lumpur Bangladesh Embassy, along with ​​ambassadors of different countries, teachers of SEGI and other universities, journalists, businessmen, artists and students studying in various universities in Malaysia were also present in the event.